Biografia Professionale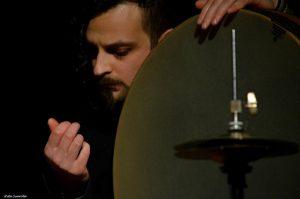 Stefano Ottomano, nato a Bari (Italia) il 4 dicembre 1983, percussionista e compositore, è laureato, con il massimo dei voti e la lode, in "Strumenti a percussione" presso il Conservatorio Niccolò Piccinni di Bari, sotto la guida del Maestro Beniamino Forestiere.
Svolge intensa attività come Docente di strumenti a percussione nelle Scuole ad indirizzo musicale e presso Associazioni e Laboratori Musicali della Provincia di Bari e Foggia.
Come compositore oltre ai suoi lavori di musica da camera per ensemble e strumento solo, compone colonne sonore per diversi registi, lavori per il cinema, spot pubblicitari per la tv, teatro e per installazioni di arte contemporanea.
Per le percussioni ha partecipato a corsi di perfezionamento e masterclass di Leigh H. Stevens, Mark Ford, Ruud Wiener, Tim Adams, Emil Richards, Nebojsa Jovan Zivkovic, Giovanni Piazza (metodologia dell'Orff-Schulwerk), Mike Quinn, Andrea Dulbecco, Marta Klimasara, Frédéric Macarez, Rich Holly, Neil Grover, John Beck, Terry Bozzio, Gregg Bisonette, Dave Weckl, Mass Ndiaye, Maurizio Dei Lazzaretti, Keith A. Aleo, Ivana Bilic, Michael Burrit, Filippo Lattanzi, Jean Geoffory, Klaus Tresselt, Theodor Milko, Davide Torrente, Alfio Antico, Piotr Sutt e Antonio Buonuomo. Per la composizione, con Steve Reich, Luca Francesconi, Giorgio Nottoli, Biagio Putignano, Francesco Antonioni, Salvatore Sciarrino e Federico Gardella.
E' autore di opere didattiche per batteria e altri strumenti a percussione molto utilizzate da diversi docenti di percussione sia in Italia che all'estero, editate dalla casa editrice francese Alfonce Production.
Ha inciso tre album di sue composizioni "Spazi" 2009, "Come trascinate dal vento" 2011 e "Poker per 50 arpe" 2011.
Per l'Orchestra di Arpe Italiana ha composto oramai per oltre un decennio, composizioni come "Poker per 50 Arpe", avendo un'ottima recensione dal critico musicale Renzo Cresti. La sua musica è stata eseguita presso : "Wigmore Hall" di Londra, Auditorium Guarasci" di Cosenza", Teatro F. Stabile di Potenza, "Teatro Odeon"di Reggio Calabria, il "Teatro Russolo" di Portogruaro "Teatro Sociale Villani" di Biella, Teatro "Savoia" di Campobasso, Duomo di Cosenza, sala Tommaso Moro di Piombino (PD), Teatro Comunale di Mendicino (CS), "Urticanti Festival di musica contemporanea", Auditorium del "Centro Superiore Katarina Gurska" di Madrid, Auditorium "Unical di Arcavata" di Rende (CS), Auditorium Gos v. le Marconi di Barletta (BT), "Incontri musicali mediterranei" presso la Cattedrale di Crotone, rassegna "Musica Oggi" a Cerisano (CS),"Bari Piano Festival 2018", Teatro Umberto Giordano di Foggia, Teatro Alighieri di Ravenna e in Festival di percussioni come l'Italy P.A.S. di Pescara, il Festivalpercussioni di Campobasso e durante la rassegna "Le note ritrovate 2022" IN MEMORIA-RINASCITA (Avellino)- Ha compostole musiche per lo spettacolo teatrale "Chiudi gli occhi" -Processo allo sguardo- di Patrizia Zappa Mulas per la regia di Marcò Iermanò, rappresentato presso le "Officina Pasolini" di Roma il 4 Maggio 2023.
Ha inoltre vinto i seguenti Primi Premi:
Menzione Speciale per le Musiche al Pazmany Film Festival di Budapest per la Colonna Sonora del cortometraggio "Nuvola" del regista Giulio Mastromauro.
Vincitore del premio Miglior colonna sonora al Festival dei Cinque Continenti di Venosa , per le musiche del cortometraggio "Nuvola" del regista Giulio Mastromauro.
Si è aggiudicato il Primo Premio di Composizione alla tredicesima edizione dell' Italy Percussion Competition Percussive and Festival 2015 Arts Society Italy Montesilvano (Pe), con la composizione "Il vaso di alabastro".
Vincitore della Menzione Speciale " Per le composizioni didattiche originali ed innovative" al Concorso Internazionale "Florestano Rossomandi" di Bovino (Foggia 2016).
Miglior Colonna Sonora al Festival Officine Official Movie di Arezzo 2021, per il cortometraggio "Come a Mìcono" del regista Alessandro Porzio.
Miglior colonna sonora all' International Film Festival "Metricamente corto" 2021, per il cortometraggio "Come a Mìcono" del regista Alessandro Porzio.
Premio Internazionale Marzio Rosi VIII Edizione "Composizione per ensemble di percussioni" con la composizione "Accumulazione 2" per 6 percussionisti.
Terzo Premio di composizione al Wanda Landowsha Festival and Competition 2023, con "Accumulazione 3" per clavicembalo solo.